NIHR distributed relief aids in Taza district.
National Institute for Human Rights (NIHR) and with the attendance of Mr. Ismail NGOs representative, as planned in the operation plan intended to help the IDPs, distributed relief in Taza district, including food items and non-food items to 900 IDP families, who were displaced because of survive from the brutal\chemical shelling by ISIS, and the distributed items were receives from UNECEF & WFP, the relief is planned to cover 1500 more IDP families in the coming days.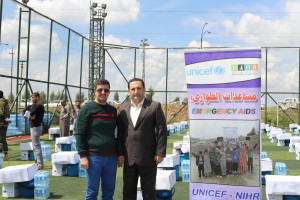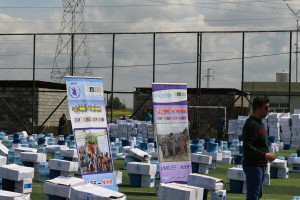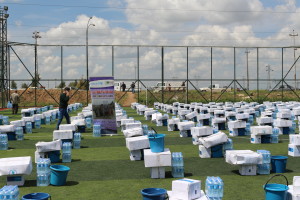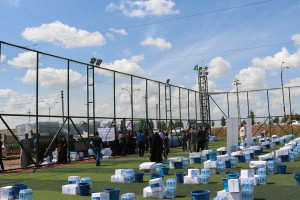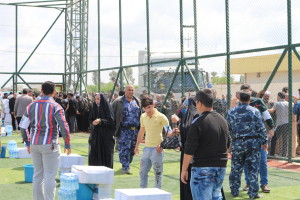 [divider]
IDPs RELIEF
Due to the continuance of armed conflict in several of Iraqi Regions, and the displacement of large numbers of the families, reside in those regions to more safe regions including Kirkuk Province, where registered the entrance of more than (19,000) IDP families to the Province, according to the official statistics provided by relevant offices, and due to the challenges face those families and necessary needs for them, including (health, food, shelter, and education), NIHR is forming a rapid search team to investigate the real numbers and what can be provided for them within those needs, and the Institute indeed since May\2014 have distributed various relief items on IDP families including (food items – health items – house items of mattresses, blankets, and kitchen items – in addition to more than (15000 shares from Unicef and other 2500 shares from SCI of winter clads for IDP children), and those families have been targeted in all regions of Kirkuk Province, and the distribution of relief aid by the Institute was not limited to Kirkuk Province and its regions only, it also targeted them in regions of Salah Al-Din and its villages and outskirts.
Moreover, we list below the numbers, regions, and types of aid distributed by NIHR:-
State of emergency declaration for IDPs
The National Institute for Human rights – NIHR declares emergency status about the IDPs to Kirkuk Province
In view of the IDPs numbers in Kirkuk Province reaching more than 55000 IDP families from the following provinces (Anbar-Salahiddin-Diyalah-Ninwah-Babel-Baghdad) and also the internal displacement from same province from the towns Hawijah, Taza, and Bashir and from this stat Kirkuk Province considered the most province to receive IDPs out of Kurdistan and a result of this situation we include the following:
 Started SOS appeals by the IDPs from the mentioned areas and existed in Kirkuk Province addressed to both local and central governments and all the organizations and local and international humanitarians and other stakeholders.
United Nations Declaration of emergency upgrading to the third class in Iraq.
 The numbers of IDPs to the province increasing constantly therefore it is over its capacity.
 Inform IDP families and living in schools and educational institutions to vacate these buildings to receive students to the new school year.
 IDPs living in the structures of buildings and unfinished houses exposed to worsen their suffering with winter approaching for those structures lack the means of protection against extreme conditions.
Children in IDP families at risk of disease and poor physical and intellectual infrastructure because of a lack of food and health with scarcity of funds they have because of extensive unemployment among heads of IDP families.
 The lack of assistance and services provided to them by government institutions and organizations, international and local humanitarian associations and matching with the large numbers of them in the province.
And explains the guidelines issued by the UN about internal displacement that international and local organizations have the right to provide services and assistance to the IDPs and to be as the governmental authorities in that as well as providing logistical support to other agencies that want to provide aid to IDPs, Therefore, we must assemble and move all local humanitarian organizations and international and regional organizations to provide the necessary information on IDPs and help all employees and interested in this area in order to reach practical solutions and in providing assistance to IDPs.
So we as humanitarian non-governmental organization, declare a State of emergency in the province for the purpose of creating the right conditions to overcome widening the problem and to limit the suffering of IDP families need a lot of humanitarian needs, we recommend the following :
We call local organizations operating in the province of Kirkuk to join the volunteer team for the development of future work (close-medium) in order to contribute effectively to reduce the problem and provide detailed surveys for their necessary needs (food and non-food, health, education, shelter, etc.) order to find appropriate solutions.
Local and central Government's claim and all relevant independent organizations to provide services for IDPs and keep up with both the increase in the numbers and requirements.
Claim relevant international and regional organizations to send humanitarian assistance to IDPs matching with the increase in their numbers and aggravate their suffering.
IDP families claim to understand the situation and emergency circumstances affecting their children and more bearing for greater responsibilities on them and the extent of the problem and cooperate with those mentioned above for the purpose of easing their suffering.