Child- friendly space
Child-Friendly Spaces are safe places within conflicts-affected communities where children's unique needs can be met. They help children return to a normal routine by offering structured activities, games and help them express themselves.
Purpose of Child-Friendly Spaces: is to contribute to provide a safe environment for children so that they can play and participate in structured activities and games and return back to their ordinary psychological state of mind after being affected with disasters.
Objectives of Child-Friendly Spaces:
1-Offer the chance to children to play ,develop, build their lives and return to normal life.
2-Finding means that can help those children who were subject to fear and terror due to crisis and emergency conditions, return back to their normal life .
3- Developing entertainment and developing their minds and thoughts.
4- Offering psychological support to children and establish suitable atmosphere to make children feel better and eliminate fear and all types of pressures off them.
5- Provide security and safety for children so that they live normally, enhance their relations with other children, promoting dialogue , expressing opinions and optimism through narrating of stories and the expressive painting.
6-Rehabilitation of children who were subject to physical abuse, sentimental punishments, separation from their parents, survival of disasters, violence of the armed groups in addition to sexually abused children.
Design of Child-Friendly Spaces before establishing any of them as we need to run field assessment to assess the children condition after being subjected to fear and terror.
Establishment of good relations with the concerned bodies concerned with child protection at the places where Child-Friendly Spaces are erected.
Child-Friendly Spaces must be free of any aspects of violence and arms. It also must be a very healthy and hygienic place.
The following steps must be followed on setting Child-Friendly Spaces:
Provide indoor and outdoor play grounds and entertainment places outside the classes of the building.
The building must be divided according to the activities.
Provide a suitable store for children toys.
Paying extra attention to the tidiness and cleanliness of the places of children and keep harmful items such electrical appliances away from them.
Provide proper toys and games for boys and girls and to children with special needs separately.
Selecting toys that are free of sharp edges such as knives, scissors and needles.
The selected toys and games must not cause any injury or illness to the children.
Provide supervisors and monitors in Child-Friendly Spaces based on age and sex of children taking into account the treatment and supervision.
Activities in Child-Friendly Spaces must include talented activities including (acting on stage, music and singing).
Physical activities: such as football matches, volley ball, basketball, and other sport and physical games.
Intellectual activities: such as narration of stories, debates and cultural discussions.
Flexibility program
This program includes several activates with certain objectives such as:
Teaching children how to get to know others.
Exchanging respect among each other.
Promotion of understanding and solidarity by thinking of their personal qualities and participation
Enhancement of children capacities to explore the feelings and deepening their sense of friendship.
Increase awareness on the concept of daily conflicts and understanding them.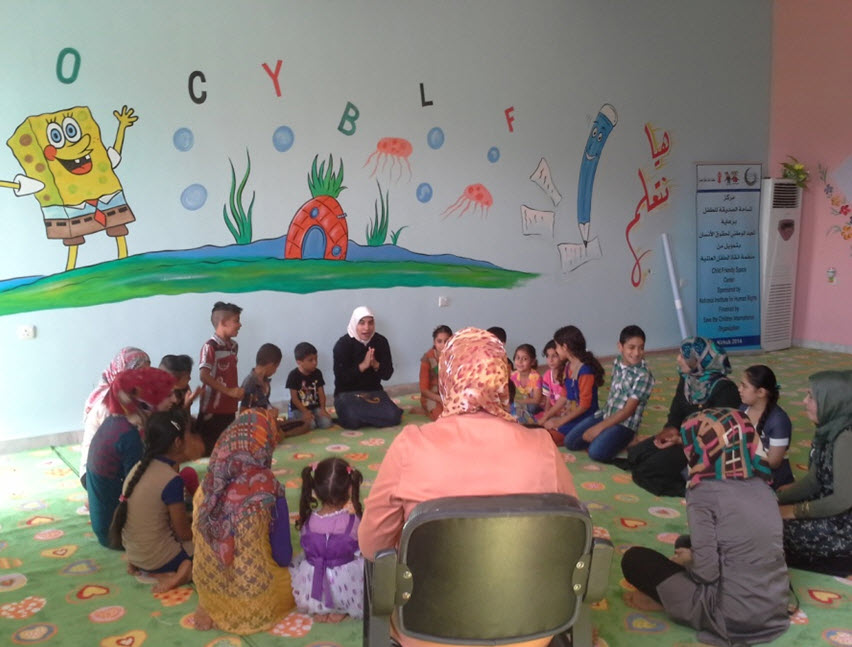 Psychological treatment
At the beginning most of the children who lived during disasters times show signs of change in social relations, behavior, physical reactions and the like. There're also other natural reactions such as sleeping disorders, nightmares solitude and the rinds of problems particularly those children who survived in the armed conflicts as it will help to the following:
Restore self-confidence and trusting others.
Feeling safe and secured by providing safe environment.
Enhancing spirit of innovation and expressing opinion and participation.
Mingling with other children and quitting solitude.
Provide entertainment and playground via execution of sport and entertainment activities.
There's a clear need to CP in Kirkuk because of stop the humanitarian and psycho services, a deep disaster appears on children because of the conflict, this project designed to be clear to unstable nature at target area. NIHR working on establish CFS/YFS at Hai Al-Mansour/Kirkuk for IDPs that has 1560 displaced family, and 7462 child, the camp lacks to friendly space to make a safe and clean area to take care about child psycho and find informal teaching to give him his rights.
Child Protection
Children have certain weaknesses in the context of the Iraqi conflict and requires a special focus. Exposure to conflict, displacement and death has greatly affected children with a large number of reporting psychological distress. Signs of this are varied and include, among other things, sleep problems, bed wetting, and aggressive behavior, fear, withdrawal and sadness. Child Protection SCrapid assessment conducted during the first two weeks of September indicates that many caregivers feel helpless with few resources to support their children and are marked with the increase in the level of stressing some cases ,the use of violent discipline in families .Armed conflict and population displacement sign if it cant increase in the exposure of children to abuse, exploitation, violence and family separation; and can have physical, psychological and emotional impact of a devastating them .Individually or in combination of all these factors therefore can seriously hamper the ability of children to grow naturally or even survive. Early detection and response to, and children who are victims or the most vulnerable to abuse and exploitation, domestic violence, separation is a critical first step in helping to mitigate the effects of long term experiences. Intervention sprovided is attribution is an excellent opportunity not only to raise community awareness about child protection and the prevention off amilyse parathion strategizes issues, but enable employees to communities screen for children who are at high risk or already suffering from these factors, so that appropriate referrals to local and can perform service providers.
These families experiencing humanitarian conditions harsh of the following areas (shelter – Water-Health-Education –holidays from work), which led to a direct impact on children and their psychology and their way of life and exercise their rights(education, education and Games, and live in peace) In this sense we have found an organization humanitarian work in the child in the province of Kirkuk protection, to contribute to providing a safe and clean environment for the restoration of child psychology, which hit of damage treatment, and finding his informal learning environment as an alternative to the death of education opportunities in their wallets, and to achieve their rights, which robbed him of during friendly for children and young people in an area of the province.
[divider]
Al-Mansur center…celebrating (Zainab Hasan`s) birthday
Child-friendly space staff in Al-Mansur organized a birthday party forten years old (Zainab hasan) since she is one of the active, creative students in the center. Many activities and symbolic ceremonials were done with the other children, full of joy. Where she put out the candles of her 10th birthday, hoping for a more beautiful life…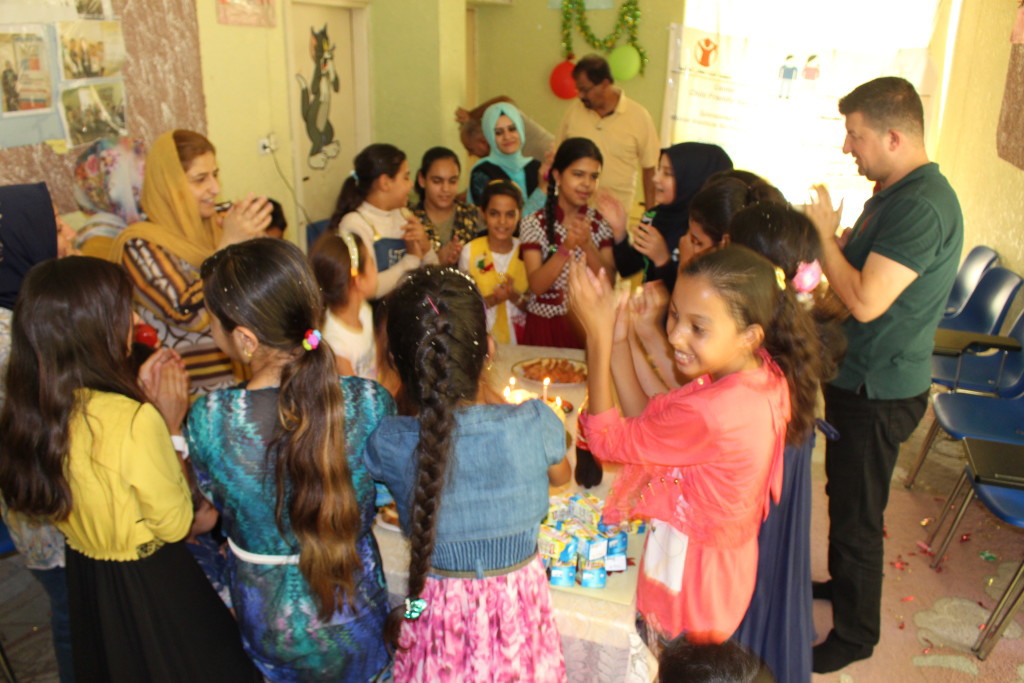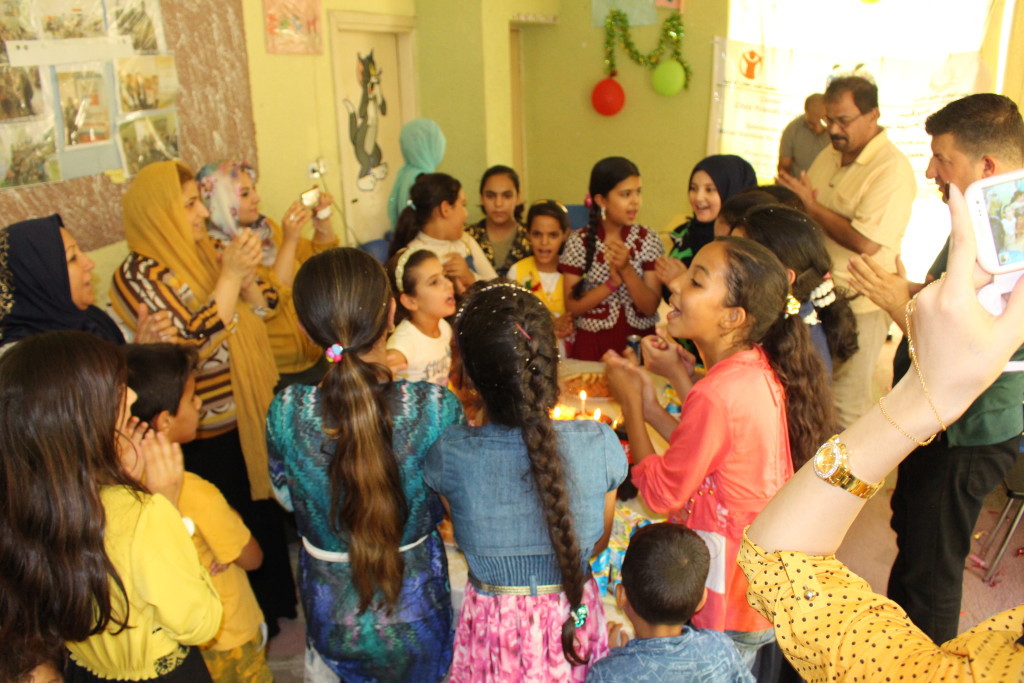 [divider]
Domiz center…organizing a sport and entertainment day
Child-friendly spaces in HIHR in Domiz center organized a day for sports and entertainment for the children there, where they practiced different sports and activities, like soccer, basketball, and other intellectual and artistic  games. They expressed their happiness and joy during these activieties.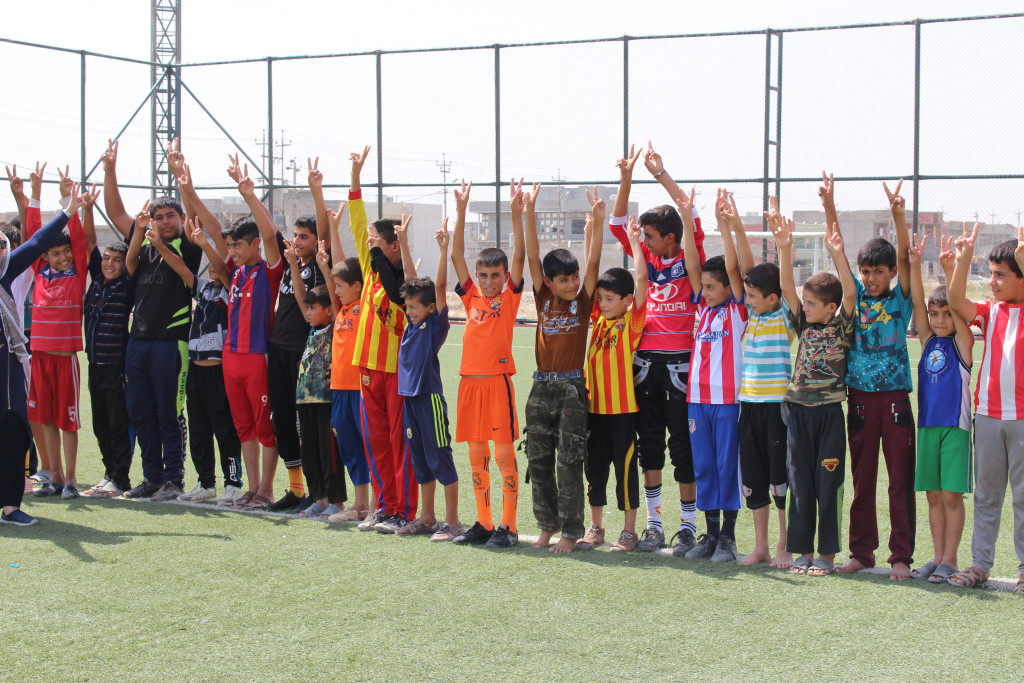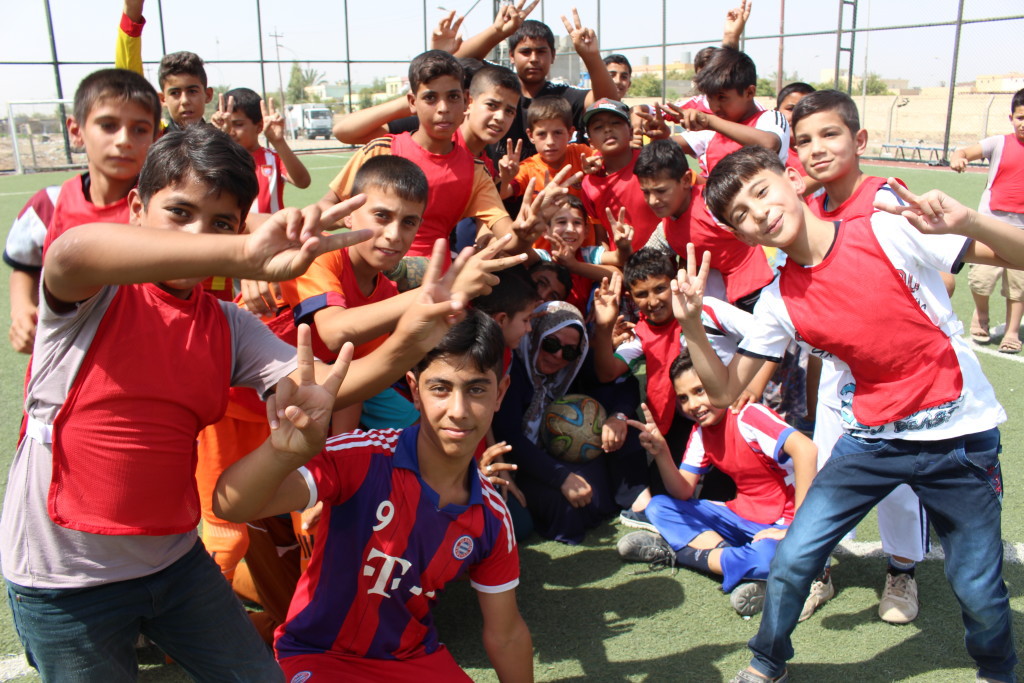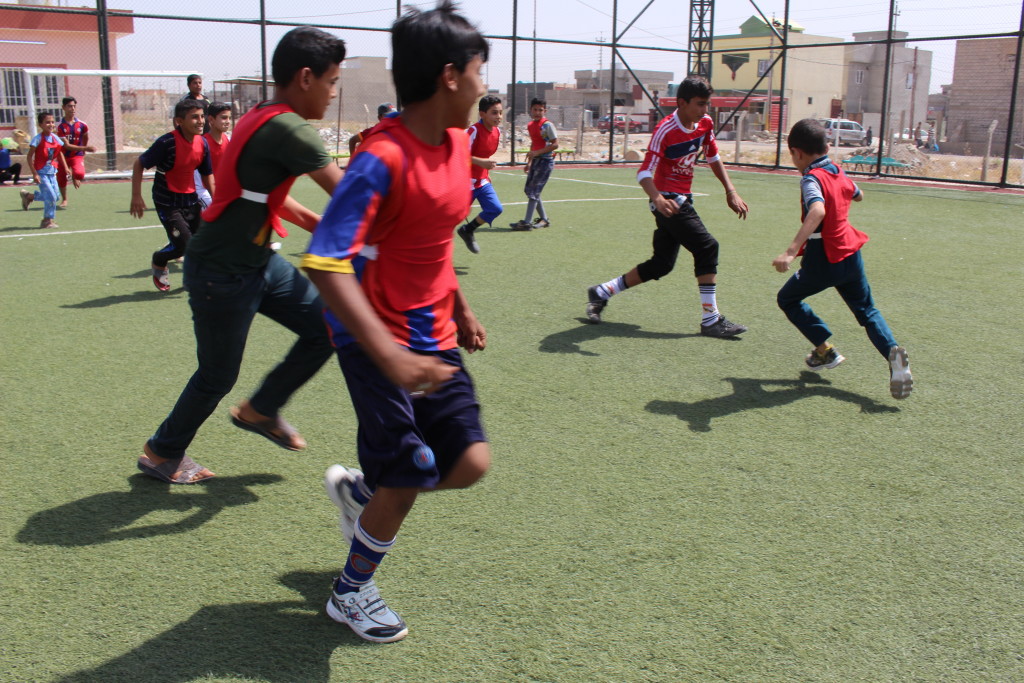 [divider]
National Institute for Human Rights…celebrating World Children`s day.
NIHR celebrated World Children`s day in Child-friendly Space centers including IDP children, NIHR staff took part in this celebration, where they have delivered several entertaining activities like, plays, comic arts, dancing, and singing songs, and many other activities, which are added to their accomplishments. That was on 23\4\2015.